📄 Welcome to the documentation for your Moobot
Get a friendly, engaging and loyal community on Twitch by using the knowledge in these docs to level up your Twitch bot!
This documentation is meant not only to help you set up your Moobot Twitch bot, but also to show you what is possible when using your bot to its full potential!
The menus on your dashboard also have integrated buttons which will take you directly to the relevant sections of this documentation.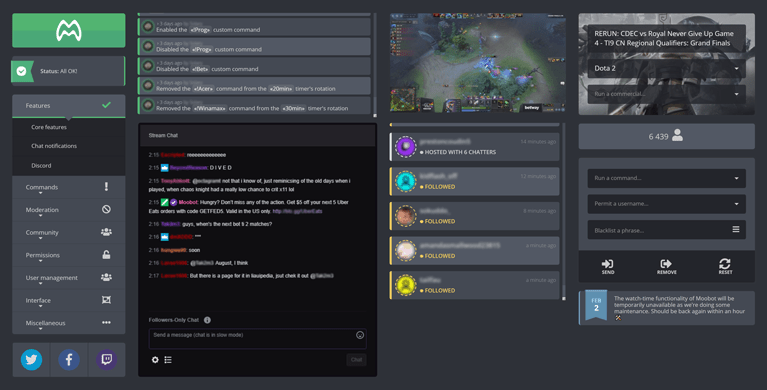 How to get your own Moobot

You can get your own Moobot very easily by signing up via Twitch - no registration required! On average it takes just 6 seconds to get started.

Once you've signed up, your Moobot is ready and can be fully managed directly from your new Twitch dashboard on the web. No need to download or install anything!

With just a few more clicks, your Moobot can start automating a lot of tedious tasks for you, removing unwanted and rewarding desirable behaviors, and encouraging engagement and loyalty from your community on Twitch.

This helps you focus on engaging with and entertaining your community, building the exact community you want on Twitch, and increasing the engagements which lead to more Twitch subs and followers for you.

Get started by following this guide...
---
Documentation contents
Community

Permissions

User management

Interface