💬 Using chat commands for your Twitch bot
Twitch bot commands are special chat commands which can be used in your Twitch chat by you, your mods and your viewers with just a normal chat message.
Anyone with a Twitch account can use one of your chat commands by typing !Command in Twitch chat, with Command being the name of your command.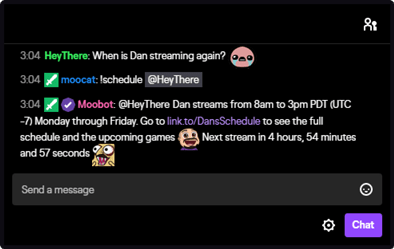 Chat commands are primarily meant to help you minimize the effort you spend on repeating yourself, so that you can focus on what's important: engaging with and entertaining your audience.
The bot commands do this by displaying repetitive information to your viewers, be it common questions your viewers ask, or simply plugging your social media.
Chat commands can also be used to increase viewer engagement. Moobot offers many features which increase viewer engagement, and your viewers will interact with many of the features through the use of chat commands.
Chat commands are great at engagement because they are very common on Twitch, simple to use, and anyone with a Twitch account can interact with chat commands. This means higher engagement for you.
Moobot's chat commands

Your Moobot has several built-in chat commands, which all can be tailored to fit the needs of you and your community on Twitch.

You can also make your own custom chat commands, with their own responses and settings.

Moobot is a great help whether you want to just make a simple chat command that spits out a response, or an advanced command which tells what music you're listening to.

On the chance that Moobot does not offer the chat command of your dreams, Moobot even lets you to build it yourself, directly into the Twitch bot!
Chat command features

Moobot offers these main features for its Twitch chat commands:

Make sure to read the full documentation for all the settings and integrations that Moobot offers through its chat commands!